On «Мир танков» – WoT RU different tanks received buffs/nerfs compared to WoT EU/NA/ASIA. The best decision would be for the 2 companies (Lesta/WG) to share the testing of many stronger/weaker tanks with each other to speed up the rebalancing process.
List of changes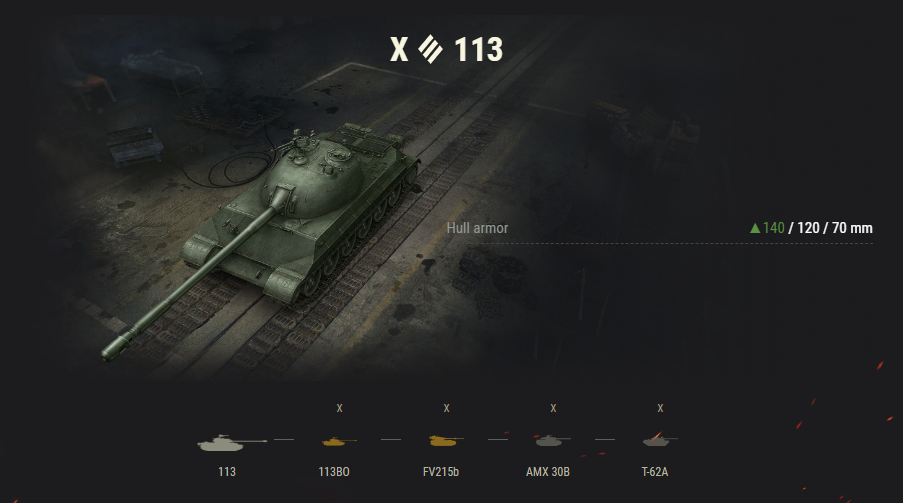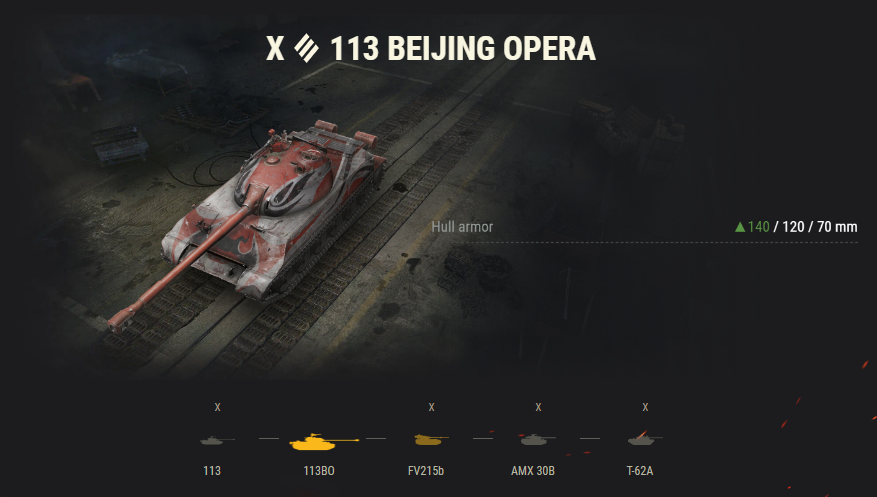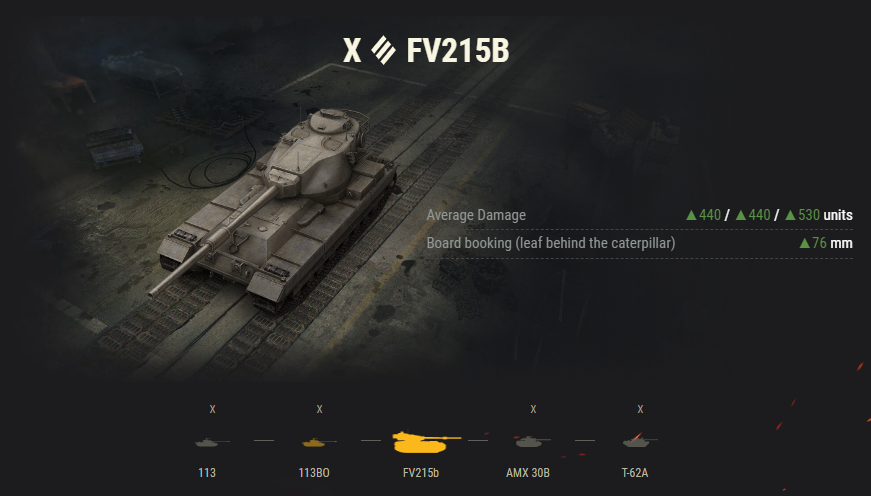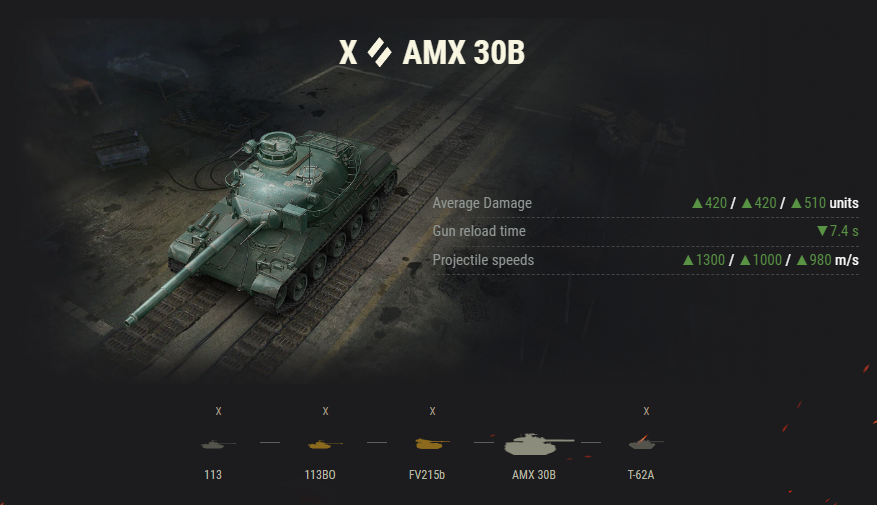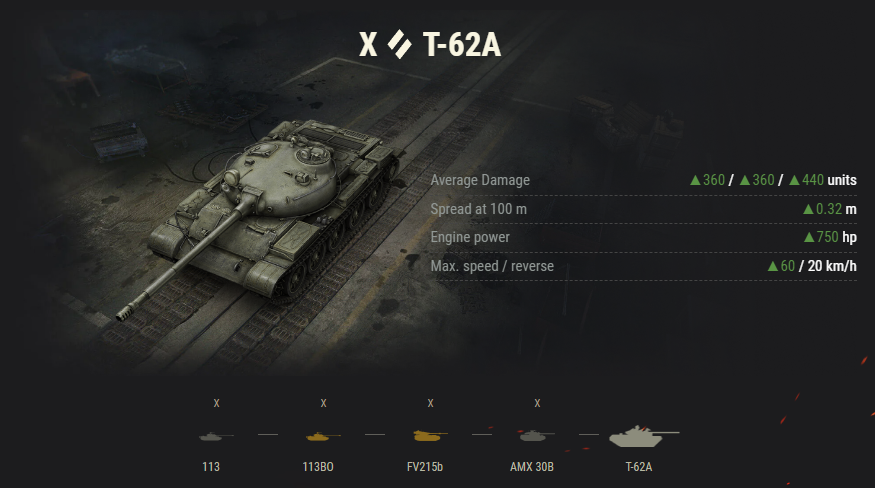 WHO WILL BE AFFECTED BY THE CHANGES?
WHAT WILL CHANGE AND WHY?

X

113

 

X

113 Beijing Opera

Hull armor: 120 mm 140 mm

Combat vehicles had low lifetime and blocked damage compared to similar vehicles. The tanks also have good guns and excellent dynamics, however, weak armor does not allow them to compete with other heavy tanks at the level.

Increasing the thickness of the upper frontal parts of tanks will increase the average life time in battle. This change will have a positive effect on the overall amount of damage: the longer the machines live in battle, the more shots they will fire.

X

FV215b

Side armor improved:
sheet behind the track : 50.8 mm 76 mm
Damage: 400/400/515 440/440/530The rear turret technique is difficult to master, but allows you to look at the game from a different angle. And FV215b is a typical representative of this group of vehicles.The rebalancing changes made will allow to solve several "hot" issues at once. Strengthening the armor of the sides should have a positive effect on survivability in battle, and an increase in one-time damage will allow not only to compete with "classmates", but also to feel more confident in collisions with enemy tanks.

X

AMX 30B

Average one-time damage: 390/390/480 420/420/510
Gun reload time: 7.8 s 7.4 s
Projectile flight speeds: 1100/800/700 m/s 1300/1000/980 m/sAt the moment, this tank is not very popular among the players: after changing the status of the vehicle to "collectible", it lost its relevance against the background of other sniper MTs. This state of affairs needs to be changed: we want not only to maintain the role of this machine, but also to increase its demand.Reduced reload time, increased projectile speed and one-time damage – these changes will make it easier to use the vehicle in battle, as well as significantly increase the amount of damage dealt per minute.

X

T-62A

Maximum speed: 50 km/h 60 km/h
Engine power: 580 HP 750 HP
Damage: 320/320/420 360/360/440
Spread at 100m: 0.34m 0.32m
Stealth Ratio (stationary): 15.28 17.96
Concealment Ratio (moving): 11.46 13.45At one time, this combat vehicle was one of the first Tier X medium tanks; as the project developed, it was withdrawn from the development branch and took pride of place among the "collection vehicles".It's time to remind the players of its competitive advantages and let the tank once again prove itself on the battlefield. Changing the speed indicators will allow the tank to quickly occupy key positions or change directions of attack, providing support to allied vehicles. The increase in damage per shot, coupled with the current reload speed, will surely raise the car to the second place in terms of damage per minute among medium tanks of Tier X.
TECHTREE BRANCH of TANK DESTROYER WZ-113G FT

VIII

WZ-111-1GFT

Hull armor  improved:
cabin armor: 180 mm 195 mm
cabin cheek armor: 200 mm 210 mm
New armor group  added : + 210 mm
Engine power 12150LTG : 600 hp 700 HP
Durability: 1,000 units 1 250 units


IX

WZ-111GFT

Projectile speed  increased by 26%
Gun spread 152 mm 59-152JG FT : 0.4 m 0.38 m
Gun reload time 152 mm 59-152JG FT : 18 s 17.5
s 700 HP
VII

SU-100M1

Hull armor reduced:
upper frontal part: 140 mm 120 mm
lower frontal part: 90 mm 80 mm
IX

M46 Patton

Armor penetration (base shell, 90 mm Gun T15E2M2): 190/170 mm 212/199 mm
IX

T54E1

Penetration (base round, 90 mm Gun T178): 181/170 mm 200/188 mm
Penetration (special round, 90 mm Gun T178): 250/250 mm 280/280 mm
IX

TNH T Vz. 51

Rate of fire inside the drum ( gun 122 mm vz. 44-51 2A ):
2.5 s 2.73 s
Reload time ( gun 122 mm vz. 44-51 2A ):
27 s 30 s
There are more than 700 tanks in our game (a colossal amount!), and we strive for players to be able to choose tanks of absolutely any level and class in the hangars, go into battle with them and have a great time.
We will not hide it, in order to achieve this goal, it is planned to revise most of the tanks in the game. Yes, it was an announcement of a large-scale vehicle rebalance that we intend to carry out in 2023-2026.
– Why so long?
Due to the large number of combat vehicles, it will not be possible to quickly make all the rebalancing changes.
How will the rebalance proceed?
All World of Tanks combat vehicles will be divided into several groups. As soon as work on one is completed, we will move on to the next.
First of all, the changes will affect researchable vehicles (tanks will be divided into the following groups according to levels: I–III, IV–V, VI–VII, VIII, IX, X ), rebalance changes will be carried out both for new vehicles and those that are already are in development branches. And also let's not forget about premium, collectible and promotional equipment. 
After the changes are made, we will closely monitor the results, statistics, game trends, and your feedback. If we notice that something went wrong, we will return to the revision of the characteristics.
Basic Questions and Answers
YOU ANNOUNCED A "LARGE-SCALE REBALANCE OF VEHICLES." WHAT DOES IT MEAN?
We want all vehicles, with all their diversity, to be in demand in battle.

To achieve this goal, it is necessary  to revise the technical characteristics of all tanks that are in the game. And, if necessary, make rebalancing changes.

WHY WERE THESE CARS CHOSEN FOR THE REBALANCE?
The decision on the need to change the characteristics of these machines was made on the basis of the collected statistics, comments and feedback from various sites.

The rest of the cars will be changed in the next iterations of rebalance edits.

A CERTAIN SET OF CHARACTERISTICS IS CURRENTLY BEING TESTED. ARE THESE FINAL FIGURES OR ARE CHANGES POSSIBLE?
Yes, changes are possible. To make such a decision, it will take time to collect and analyze statistics, as well as your comments and feedback.

PS Please leave reasoned comments, not "bad tank!".

THE PERFORMANCE CHARACTERISTICS OF PREMIUM TANKS CAN ALSO CHANGE?
Yes, if we see the need for it.
IS IT PLANNED TO REVISE THE CONDITIONS OF THE CAMPAIGN FOR PERSONAL COMBAT MISSIONS FOR OBJECT 279 EARLY AFTER THE REBALANCE OF THE VEHICLE?
At the moment there are no such plans.
source: https://tanki.su/ru/news/updates/1-22-tanks-rebalancing/