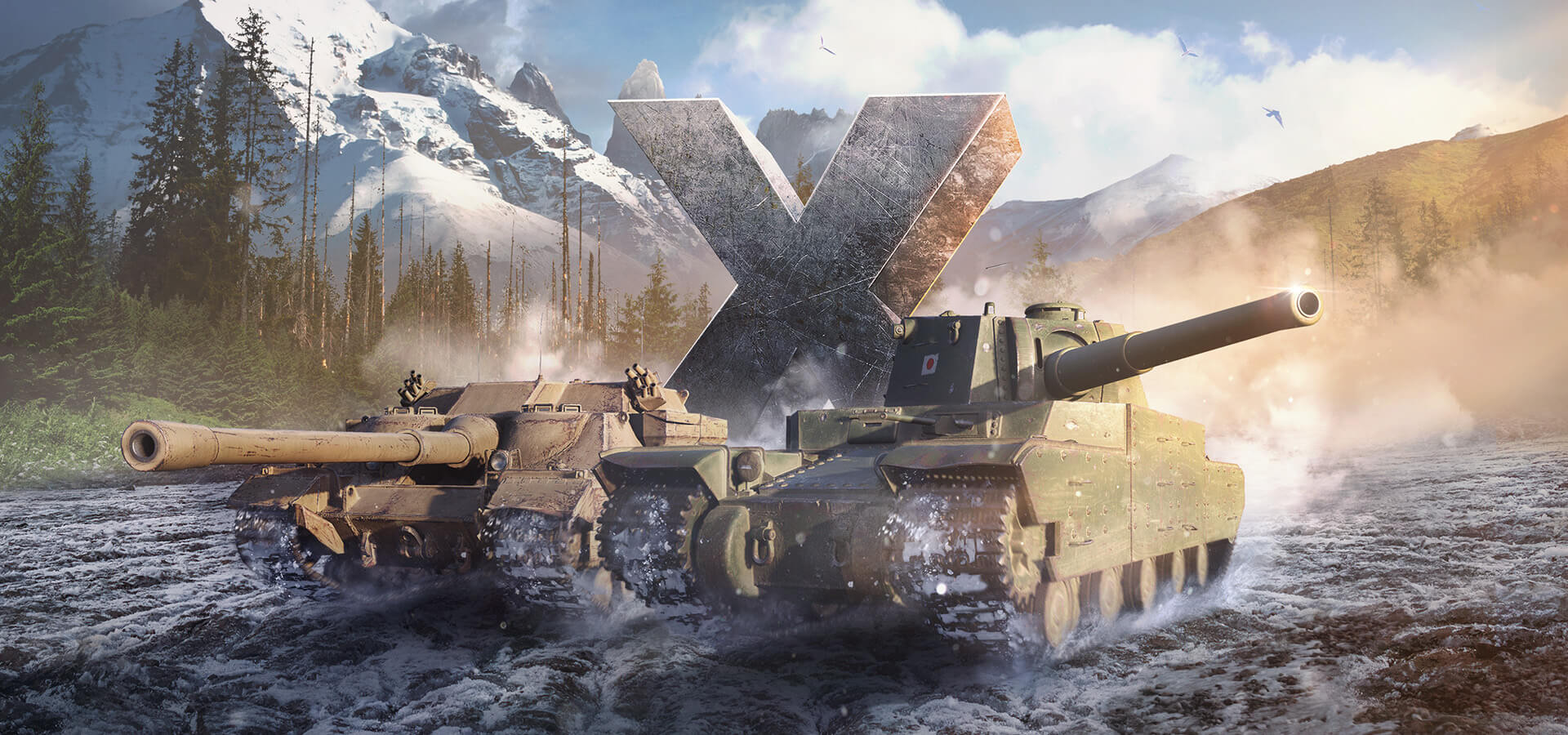 This December, our monthly Tech Tree event takes you up the lines of British tank destroyers and Japanese heavy tanks. Use credit discounts, missions, and special offers to race through the tiers and add the hard-hitting FV217 Badger and the hulking Type 5 Heavy to your Garage.
This special lasts all month, until January 5 at 06:00 CET (UTC+1), giving you plenty of time to explore both Tech Tree lines. If you want to speed things up and reach the top of the tree even faster, take advantage of the booster bundles, available in the Premium Shop or in-game until December 20 at 06:00 CET (UTC+1).
Missions up to Tier X
Available from December 5 at 06:00 CET through January 5 at 06:00 CET (UTC+1)
You'll have something to fight for every day this month! Get ready for 

XP per vehicle every day, Crew XP bonuses, and other significant rewards to help you reach Tier X. You can find more information about the missions below:
Reward:
×5 XP
Objectives:
Win a battle
Be among the top 10 on your team by base XP earned
Restrictions:
Only in Random Battles
Once per day
Only available for vehicles featured in this special
Activates after the first win multiplier is used
Triple the number of daily

XP bonuses with Premium Shop and in-game bundles featuring aesthetic extras and an additional reward for the featured lines.
Reward:
×2 Crew XP
Objectives:
Play a battle
Be among the top 7 on your team by base XP earned
Restrictions:
Only in Random Battles
Only available for vehicles featured in this special
Rewards:
6,500 XP
1 Personal Reserve: +50% to XP for 1 hour
Objective:
Cause 20,000 HP of damage over any number of battles
Restrictions:
Only in Random Battles
Only available for the following vehicles:

AT 8
AT 7
AT 15
Tortoise
FV217 Badger

10 times per account
XP will be credited to the vehicle used to complete the mission
Rewards:
20,000 XP
Objective:
Cause 200,000 HP of damage over any number of battles
Restrictions:
Only in Random Battles
Only available for the following vehicles:

AT 8
AT 7
AT 15
Tortoise
FV217 Badger

Once per account
XP will be credited to the vehicle used to complete the mission
Rewards:
1 Large Repair Kit
1 Large First Aid Kit
1 Automatic Fire Extinguisher
1 Personal Reserve: +200% to Crew XP and Free XP for 1 hour
Objective:
Play 5 battles
Be among the top 10 on your team by base XP earned
Restrictions:
Only in Random Battles
Repeatable
Only available for the FV217 Badger
Rewards:
6,500 XP
1 Personal Reserve: +50% to XP for 1 hour
Objective:
Cause 20,000 HP of damage over any number of battles
Restrictions:
Only in Random Battles
Only available for the following vehicles:

O-I
O-Ni
O-Ho
Type 4 Heavy
Type 5 Heavy

10 times per account
XP will be credited to the vehicle used to complete the mission
Rewards:
20,000 XP
Objective:
Cause 200,000 HP of damage over any number of battles
Restrictions:
Only in Random Battles
Only available for the following vehicles:

O-I
O-Ni
O-Ho
Type 4 Heavy
Type 5 Heavy

Once per account
XP will be credited to the vehicle used to complete the mission
Rewards:
1 Large Repair Kit
1 Large First Aid Kit
1 Automatic Fire Extinguisher
1 Personal Reserve: +300% to Crew XP and Free XP for 1 hour
Objective:
Play 5 battles
Be among the top 10 on your team by base XP earned
Restrictions:
Only in Random Battles
Repeatable
Only available for the Type 5 Heavy
Climb the Tree Faster