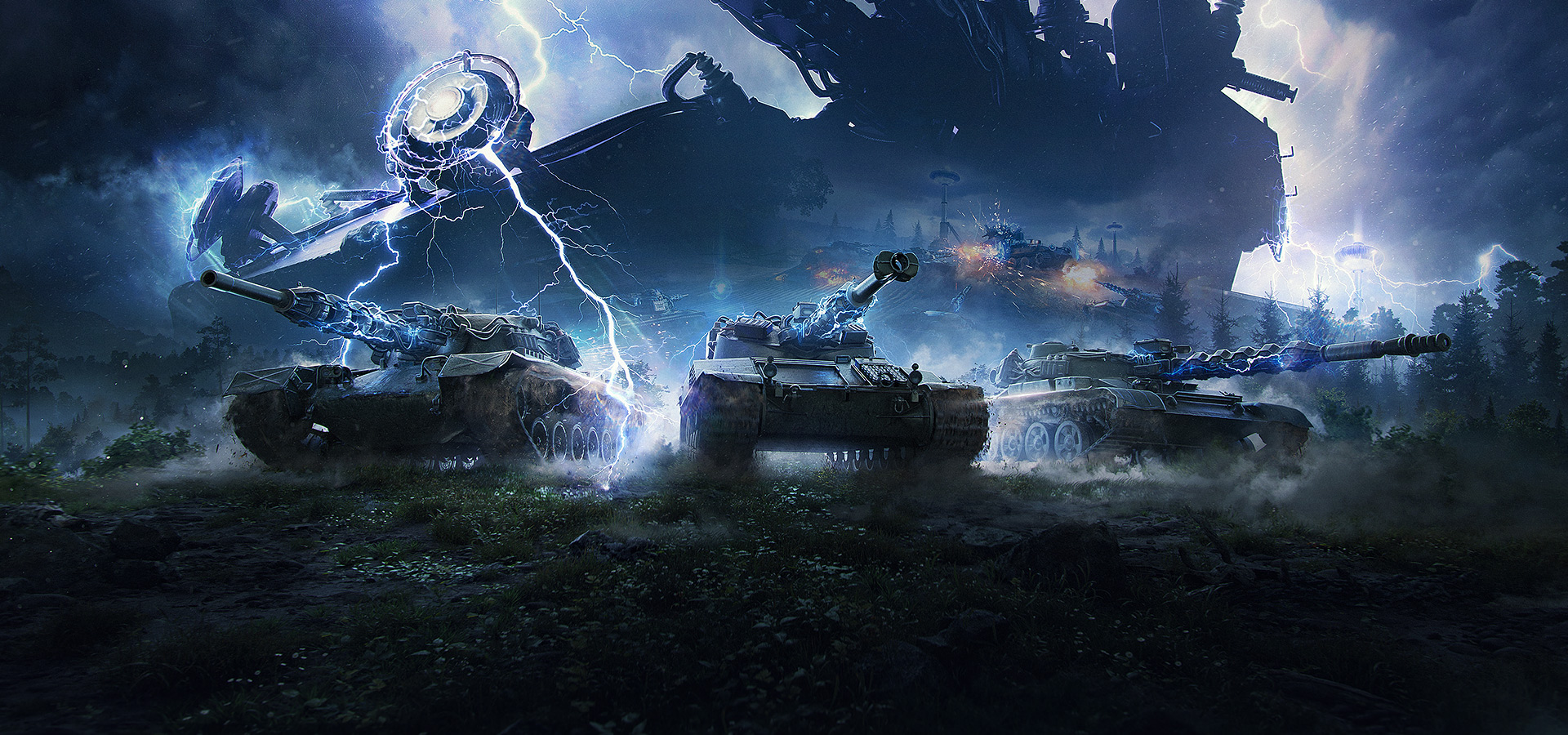 From September 26 through October 10, The Waffenträger: Legacy will take place, and you'll once again face the extremely powerful Blitzträger auf E 110, the formidable "wonder weapon" of the von Krieger family.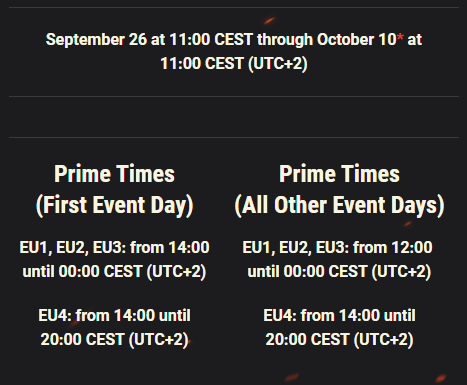 The Harriers
The Alliance once again went on the trail of the von Krieger family and found the coordinates of this base, where the Harrier Squad was immediately sent. But something unexpected happened… Instead of von Krieger, they had to deal with his daughter, Ermelinda. But this doesn't mean that it will now be easier to triumph in this conflict!
The Harrier Squad consists of six battle Harriers who will have to take on the extremely powerful Blitzträger auf E 110. You will have the following three special vehicles to choose from in the event Garage:
Resistor, a versatile multi-role tank
Thunderbolt, a slow tank with decent turret and frontal armor and a formidable gun
Foudre, a speedy tank with an autoloader that sacrifices armor and survivability for greater dynamics
Choose one of them and click the "Battle!" button to take on Ermelinda's incredibly powerful combat monster!



The Harriers can respawn an unlimited number of times in a single battle, but each subsequent respawn will take more and more time. If your vehicle has a load of Plasma on board and is driving faster than 50 km/h, the Plasma counter will slow down. Take advantage of this to deliver Plasma faster and increase your chances of winning!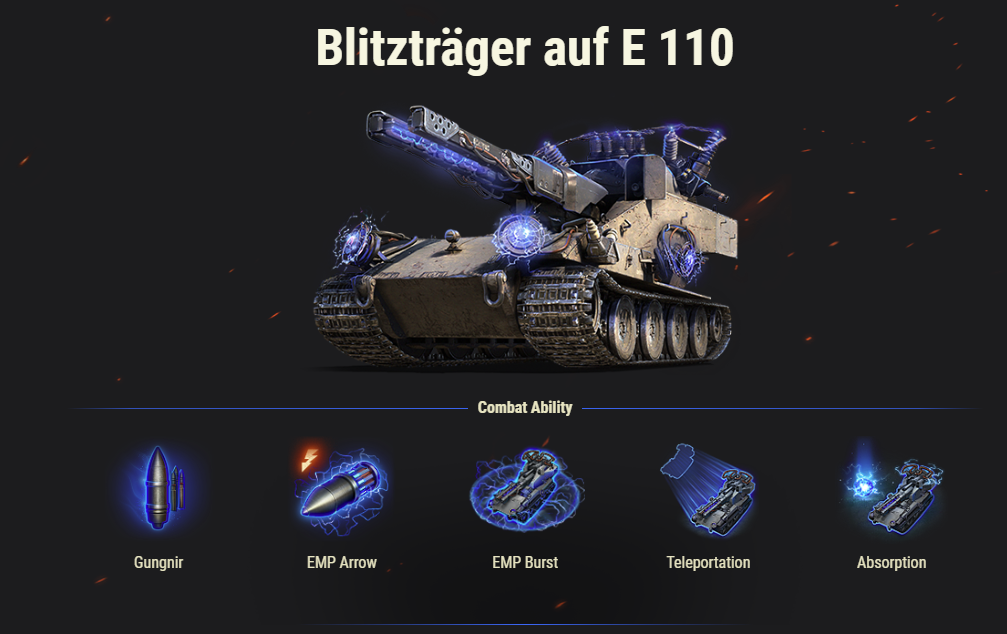 The Blitzträger auf E 220: A Rare-Yet-Coveted Opponent
The Blitzträger auf E 220 has the same stats as the E 110, but it features a unique camouflage pattern so you can easily identify it. This is a vehicle that only certain Wargaming employees and famous content creators can unlock. You may encounter it during special days.
If you and your team manage to defeat the E 220, everyone on your team will receive a special medal and one Engineer's Starter. Check out the dedicated article for additional information about the big E 220 hunt, including a list of participating content creators and prime hunting times!
Rush Into Random Battles in the Iconic Waffenträger auf E 100!
Complete special missions in the event battles to earn Tokens that will gradually fill the progression meter. The progression system consists of 20 Stages, and you need 20 Tokens to complete each Progression Stage. On the progression screen, you will see how many Tokens you still have to earn to complete the Stage and grab the reward.
Reaching each new Stage awards you valuable in-game items, including the following:
Two unique female crew members with exclusive voiceovers (upon completion of the 10th and 17th Progression Stages)
Imposing event-themed customizations (an emblem, decals, inscriptions, and camos)
The Engineer's and Harriers' Starters
Bonds
Days of WoT Premium Account
But most importantly, upon completion of the final 20th Stage, you will have the opportunity to rent the legendary Waffenträger auf E 100 for five Random Battles!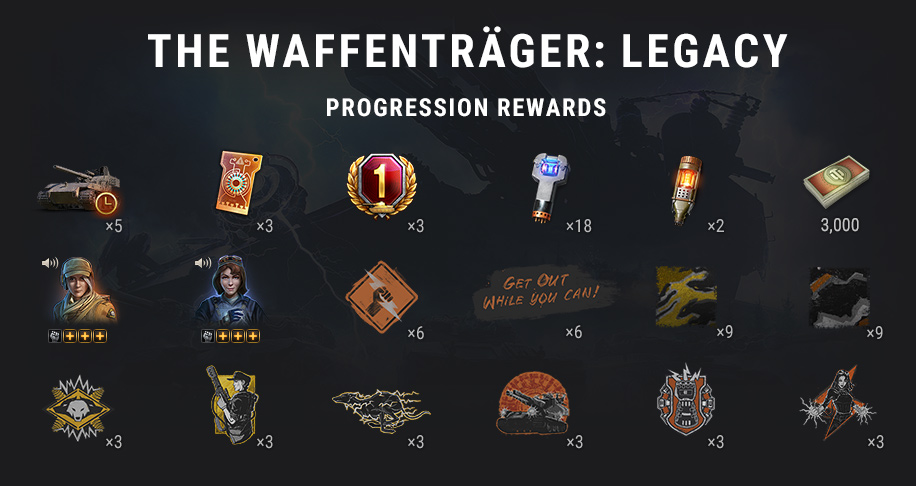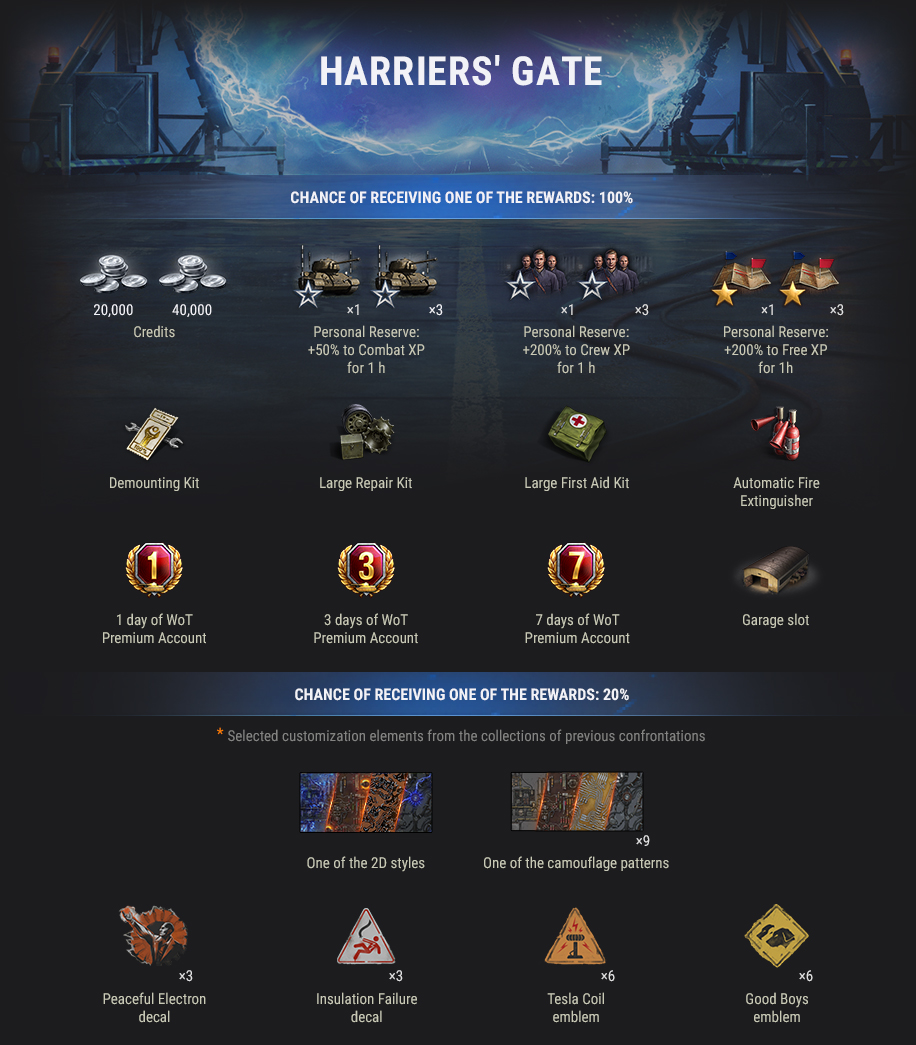 By completing the missions while playing in the Blitzträger auf E 110, you earn the Engineer's Starters. These Starters are used to activate the Engineer's Gate.
You can also get the Engineer's Starters upon completing certain progression milestones, as well as for free with each special bundle in the Premium Shop.
Upon each activation, the Engineer's Gate may bring you in-game items from four different categories, each of which has its own drop rate. First, you will receive a guaranteed item from the following list:
Credits
Personal Reserves
Days of WoT Premium Account
Crew Books
Demounting Kits
Special 2D "Network Meltdown," "Lightning Hunter," and "Breadboard" styles
If Lady Luck's on your side, you also have a 5% chance to get an imposing Harrier-themed 3D style for the Object 140, Bat.-Châtillon 25 t, or M48A5 Patton. Each 3D style can only drop once.
But the most coveted rewards are the rare Tier VIII and IX Premium vehicles, including the brand-new FV4201 Chieftain Proto and KV-4 KTTS.
NEW! FV4201 Chieftain Proto: A multi-role Tier IX Premium British heavy tank with an incredibly tough turret and decent frontal armor, great gun depression angles of –10 degrees, and a respectable 400 HP of damage per shot. Like its brother in arms sitting at Tier X, this heavy boasts an overall good mix of characteristics, allowing it to dominate in positional battles or win one-on-one duels. Depending on the situation on the battlefield, it can lead the attack and carry the team, absorbing enemy shells, or it can perform as a powerful support vehicle, assisting medium tanks.
NEW! KV-4 KTTS: A Tier VIII Premium Soviet tank destroyer. A rear-mounted turret and its similarity to the KV-4 heavy tank leave a mark on the vehicle's gameplay. Low maneuverability and mediocre mobility are counterbalanced by well-sloped frontal armor, so hitting it will not be easy. The KV-4 KTTS is armed with a 107 mm high-penetrating gun that causes 360 HP of damage per shot and has a reload time of under nine seconds. With its rear-mounted turret and 90-degree gun traverse limits (45 degrees to either side), it can successfully use side-scraping tactics at the most effective angles from both cover and open terrain.


Apart from these menacing hunters, you may receive a Premium vehicle—one that you do not have in your Garage yet—with a Garage slot from the following list with a 2.4% drop rate:
Finally, the Engineer's Gate has a chance of dropping 10 Random Battles in the legendary Waffenträger auf E 100*!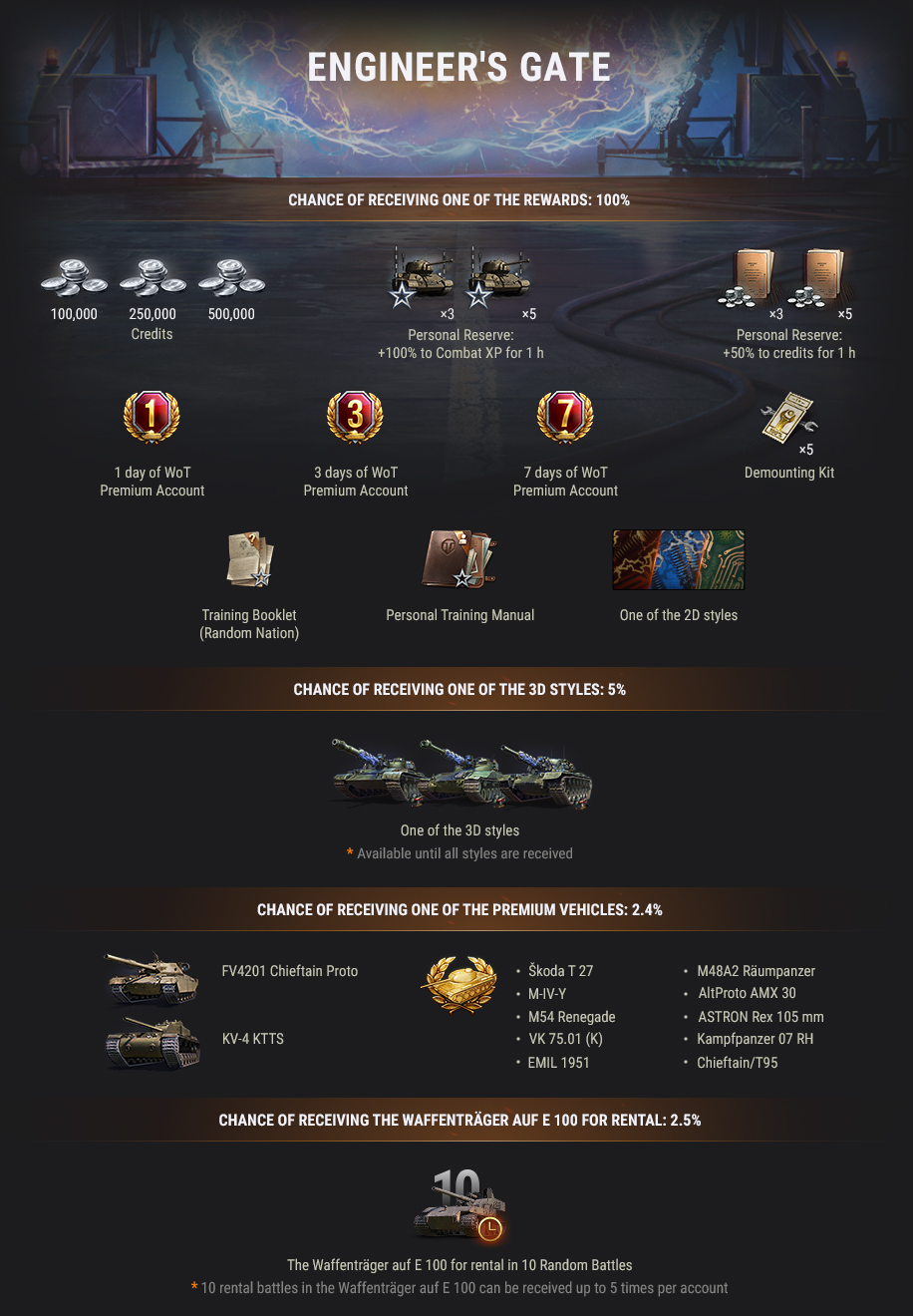 The Engineer's Gate: How It Works
When a vehicle drops from the Engineer's Gate, a slot in the Garage is credited first, and information about it will be displayed in the in-game notification center.
If you receive a vehicle that is already in your Garage, it will be replaced by any vehicle from the above list that you don't already have in your Garage.
If you already have all the vehicles from the list, the cost of the dropped tank will be compensated with gold.
If you have sold a Premium vehicle from the list above and it can be restored using the in-game Vehicle Restoration tool, it may drop from the Engineer's Gate at the standard drop rate. However, it will be compensated with gold instead.
Guaranteed Vehicle Mechanics
If you spent 49 Engineer's Starters but still did not receive a Premium vehicle, then with the 50th activation of the Engineer's Gate, you are guaranteed to receive a random Premium tank that you don't have already from the list above, as well as a Garage slot.
If you already have all the vehicles from the list in the Garage, then the guaranteed vehicle mechanics will be disabled.
Compensation
The Reward Replacement Mechanic
The Waffenträger: Legacy event features a reward replacement mechanic, meaning you can replace your current prize. Each reward replacement counts towards a guaranteed vehicle and takes you one step closer to getting a Premium tank.
The Harriers' Gates can be reactivated up to three times for credits.
The first replacement costs 

25,000

 , the second 

50,000

 , and the third 

100,000

 .
The Engineer's Gates can be reactivated up to five times for gold.
The first three replacements cost 

250

  each, and the rest are 

500

  each.
You cannot replace your reward if the Engineer's Gates drops a Premium vehicle or compensation in gold.
Exclusive Crew Members
Ermelinda Jung and her Alliance antagonist, Villanelle Rapière, are ready to join the ranks of your commanders! Upon completion of certain event milestones, you'll be able to recruit these unique characters with exclusive voiceovers. They come with 100%-trained Brother in Arms as a zero perk and enough XP to learn three additional skills or perks of your choice.